The Sikh Society of Minnesota provides free monthly health clinics on second Sunday of every month from 11:00 AM - 2:00 PM. During the free monthly clinic health volunteers from SEWA-AIFW Asian Indian Family wellness are available to provide the following.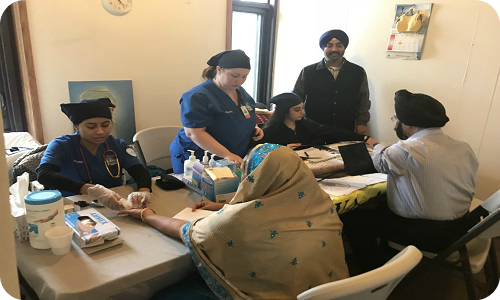 What is available?
Blood Pressure Measurements
Glucose Testing
Medical consultations
Referrals to Low-Cost Culturally Sensitive Health Services
Notarial consulting
We do not
Prescribe medications
Perform physical exams
Handle urgent or emergency cases
For medical emergency please call 911 for help
What should I bring?
A picture ID with birthdate and name
List of all medications and any allergies
During flu season, the Sikh Society of Minnesota arranges free flu shots regardless if someone has medical insurance coverage or not. This is a free service for all. We recognize that flu shot's important both for our own health and the health of people around us. The single best way to protect against the flu is to get vaccinated each year.
Everyone 6 months of age and older should get a flu vaccine every season. This recommendation has been in place since February 24, 2010 when CDC's Advisory committee on Immunization Practices (ACIP) voted for "universal" flu vaccination in the United States to expand protection against the flu to more people. It's best to get vaccinated before flu begins spreading in community. CDC recommends that people get a flu vaccine by the end of October. Getting vaccinated later, however, can still be beneficial and vaccination should continue to be offered throughout the flu season, even into January or later.
A flu vaccine is needed every season for two reasons. First, the body's immune response from vaccination declines over time, so annual vaccine is needed for optimal protection. Second, because flu viruses are constantly changing, the formulation of the flu vaccine is reviewed each year and sometimes updated to keep up with changing flu viruses. For best protection, everyone 6 months and older should get vaccinated annually.
For more information please click here to see key facts about seasonal flu vaccine.